Scientist Profile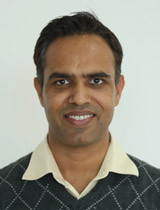 Dr Mahendra Bishnoi
Scientist D
Diet/Nutrition and public health Receptor Pharmacology
Post doctoral research fellowship in the area of Receptor Pharmacology at Department of Pharmacology, Southern Illinois University- School of Medicine, Springfield, Illinois, USA (Pain and diabetic research, Dr. Louis S. Premkumar).
Department of Psychiatry, McKnight Brain Institute, University of Florida, Gainesville, Florida, USA (Nicotine addiction research, Dr. A. W. Bruijnzeel).
In our recent publications, we have been successful in giving molecular proofs for health benefits of different food and food constituents i.e. capsaicin, cinnamaldehyde, menthol etc.
It is noteworthy that we have been first laboratory to report increase in Akkermansia muciniphila on capsaicin administration and its possible role in its anti-obesity effect (Baboota et al., 2014).
One of the recent publications in Nature (Suez et al., 2014) have highlighted that artificial sweeteners can cause metabolic complications through gut dysbiosis. We have been able to establish that sweet prebiotic; isomaltooligosaccharides (IMO) have gut benefits via increase in good bacterial abundance and increase in short chain fatty acids (Singh et al., 2016). It improves metabolic health and can be used as artificial sweetener in the development of novel foods and beverages.
Nutritional insecurity is the biggest concern worldwide. India is facing a challenge of double nutritional burden in the form of undernutrition and overnutrition. According to WHO's The World Health Statistics, non- communicable diseases (including obesity and related complications) are the prime cause of huge manual and economic losses. Current anti-obesity medications affect one of the fundamental processes of the weight regulation in human body, hence have side effects. Therefore, it is important to have dietary regulations to prevent life style problems rather than to search for the treatment. Based on our holistic ancient literature there are numerous health benefits given to dietary constituents. Our objective is to provide scientific mechanisms using nutrigenomics and receptor based approaches to these beliefs. This will enable us to promote food as medicine for nutritional security.
Khare P, Jagtap S , Jain Y, Baboota RK, Mangal P, Boparai RK, Bhutani KK, Sharma SS, Premkumar LS, Kondepudi KK, Chopra K, Bishnoi M. (2016). Cinnamaldehyde supplementation prevents fasting induced hyperphagia, lipid accumulation and inflammation in high fat diet fed mice. Bio factors, 42(2), 201-211.

Singh DP, Khare P, Zhu JH, Kondepudi KK, Singh J, Baboota RK, Boparai RK, Khardori R, Chopra K, Bishnoi M. (2016). A novel cobiotic based preventive approach against high fat diet-induced adiposity, non-alcoholic fatty liver and gut derangement in mice. Int J Obes (Lond). 40(3), 487-496.

Baboota RK, Singh DP, Sarma SM, Kaur J, Sandhir R, Boparai RK, Kondepudi KK, Bishnoi M. (2014). Capsaicin induces "brite" phenotype in differentiating 3T3-L1 preadipocytes. PLoS One. 9(7):e103093.

Baboota RK, Murtaza N, Jagtap S, Singh DP, Kaur J, Boparai RK, Premkumar LS, Kondepudi KK, Bishnoi M. (2014). Capsaicin-induced transcriptional changes in hypothalamus and alterations in gut microbial count in high fat diet fed mice. Journal of Nutritional Biochemistry; 25(9):893-902.

Bishnoi M, Kondepudi KK, Gupta A, Karmase A, Boparai RK. (2013). Expression of multiple Transient Receptor Potential channel genes in murine 3T3-L1 cell lines and adipose tissue. Pharmacological Reports; 65(3):751-5.

View All Publication
Selected for Early and Mid Career Researcher (EMCR)-2017 fellowship by INSA
Recipient of DST-SERB, Govt. of India travel grant for presentation at 3rd TRP channel symposium, KU-Leuven, Belgium (September 16th -18th, 2015)
Conferred with JEWEL OF INDIA AWARD by Indian Solidarity council, New Delhi.
Finalist (Top seven) of INSA Young Scientist Medal (Sectional committee-XI- Medical Science)
Recipient of Melvin Yahr award to attend 18th and 20th WFN conference of Parkinson's and related disorders at Miami Beach, Florida, USA (December 13-16, 2009) and Geneva, Switzerland (December 9-12, 2013) respectively
Invited as Young Investigator speaker at Biennial conference of Asia-Pacific Society of Neurochemistry to be held at Shanghai, China (June, 25-28, 2008)
Recipient of IBRO-APRC fellowship to attend and present at IBRO World Neuroscience Congress held at Melbourne (July, 12-July 17, 2007) Australia.
Recipient of IBRO-APRC fellowship to attend IBRO Neuroscience School on "Neural Stem Cells" held at Melbourne (July, 2-July 7, 2007) Australia.
Recipient of IBRO travel grant to attend and present at 4th FAONS held at Hong Kong ( Nov 29-Dec, 2, 2006)
University Gold medal for standing first in M. Pharmacy (2004)