Scientist Profile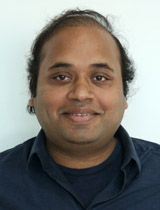 Dr Nitin Kumar Singhal
Scientist D
MSc Indian Institute of Technology Roorkee, Roorkee Department of Chemistry, India
PhD Indian Institute of Technology Bombay, Mumbai, Department of Chemistry
Mentor: Prof C P Rao, Specialization: Bio-Inorganic Chemistry
Post Doc (May 2009- Jan 2012): Dept. of Chemistry, Nanobioscience lab, Seoul National University, Seoul, South korea
Mentor: Prof Jwa-Min Nam Specialization: Nanobioscience
A process has been developed for immobilization of the chimeric enzyme, Smt3-d-psicose 3-epimerase, and production of nearly zero calorie sugar, D-psicose, from agro-industrial residues.(Patent File No. 201611044752)
Guanosine diphosphate (GDP) a promising natural small-molecule inhibitor that targets Hepcidin-FPN complex has been identified as an additional supplement to iron ameliorate AI.
Iron homeostasis, nutritional iron deficiency and common lifestyle diseases
Hepcidin, a peptide hormone, is a key regulator in mammalian iron homeostasis. Increased level of hepcidin due to inflammatory conditions stimulates the ferroportin (FPN) transporter internalization, impairing the iron absorption; clinically manifested as anemia of inflammation (AI). Inhibiting hepcidin-mediated FPN degradation is proposed as an important strategy to combat AI. A systematic approach involving in silico, in vitro, ex vivo and in vivo studies is employed to identify hepcidin-binding agents. The virtual screening of 68,752 natural compounds via molecular docking resulted into identification of guanosine 5′-diphosphate (GDP) as a promising hepcidin-binding agent. The molecular dynamics simulations helped to identify the important hepcidin residues involved in stabilization of hepcidin-GDP complex. The results gave a preliminary indication that GDP may possibly inhibit the hepcidin-FPN interactions.
2. Development of calorimetric nanobiosensor to detect food borne bacteria
3. Enzyme immobilization: Development of new type of nanoparticles to immobilize enzyme to make enzyme more robust and reusable
Magnetite and magnetite core/shell (Fe3O4/SiO2) nanoparticles were synthesized and functionalized with two different alkyl chain length linkers that were 3-Phosphonopropionic acid (3-PPA) and 16-Phosphonohexadecanoic acid (16-PHDA). Xylanase (EC 3.2.1.8, endo-1,4-xylanase, endo-1), was immobilized on as synthesized bare and silica coated magnetite nanoparticles via well-known EDC coupling. Transmission Electron Microscopy (TEM), Field Emission Scanning Electron Microscopy (FESEM), X-Ray Diffraction Spectroscopy (XRD), X-ray Photoelectron Spectroscopy (XPS), Dynamic Light Scattering (DLS) and Thermogravimetric analysis (TGA) techniques were utilized to characterize all the modifications. The flexible linker chain length plays a vital role in the catalytic attributes of the immobilized enzyme. Result shows that long chain alkyl linker grafted magnetite and magnetite core/silica shell nanoparticles exhibited a superior performance in terms of lower Km, higher catalytic efficiency and better reusability. Furthermore, the immobilized xylanase shows improved tolerability performance at a wide range of pH and temperature. Silica-coated magnetite nanoparticles bound xylanase through 16-PHDA retained 90% of its initial activity after 10 consecutive cycles, further emphasize on the beneficial effect of linker chain length and inert silica coating.
Singhal NK1, Ramanujam B, Mariappanadar V, Rao CP. Carbohydrate-based switch-on molecular sensor for Cu(II)in buffer absorption and fluorescence study ofthe selective recognition of Cu(II) ions by galactosyl derivatives in HEPES buffer Org Lett. 2006 Aug 3;8(16):3525-8. (Impact factor (IF): 6.732).

Angmo S, Tripathi N, Abbat S, Sharma S, Singh SS, Halder A, Yadav K, Shukla G, Sandhir R, Rishi V, Bharatam PV, Yadav H, Singhal NK*. Identification of Guanosine 5'-diphosphate as Potential Iron Mobilizer: Preventing the Hepcidin-Ferrportin interaction and Modulating the Interleukin-6/Stat-3 Pathway. Sci Rep. 2017 Jan 5;7:40097. doi: 10.1038/srep40097. (Impact factor (IF): 5.228).

Singh V, Rakshit K, Rathee S, Angmo S, Kaushal S, Garg P, Chung JH, Sandhir R, Sangwan RS, Singhal N*. Metallic/bimetallic magnetic nanoparticle functionalization for immobilization of α-amylase for enhanced reusability in bio-catalytic processes. Bioresour Technol. 2016 Aug;214:528-33. doi: 10.1016/j.biortech.2016.05.002. (Impact factor (IF): 4.917).

Singhal NK, Mitra A, Rajsekhar G, Shaikh MM, Kumar S, Guionneau P, Rao CP. Role of the orientation of -OH groups in the sensitivity and selectivity of the interaction of M(2+) with ribosyl- and galactosyl-imino-conjugates. Dalton Trans. 2009 Oct 21;(39):8432-42. doi: 10.1039/b903668g. (Impact factor (IF): 4.177).
Recipient of Fulbright-Nehru Academic and professional Excellence Fellowship
Best Paper Award from IIT Bombay
Brain Pool Post doctoral research fellowship